Let's face it.  I've told you this before on how you can generate a full time income with affiliate marketing.  Most of you don't believe it as you have a hard time trying to generate some kind of commission online.  I get it.  It's not that easy as I make it seem.   But little do you realize, that in order to become an affiliate marketer you need to learn how to do affiliate marketing.  I mean, its not as easy as you think in terms of getting your own affiliate links to promote a product.  It's tough.  The reason that it's tough, well you have to know that Vendor who is willing to let you promote his products.
Let me explain.   Let's say you wanted to promote one of my products online, so you can make 50% commissions from me.   It's not that easy , even with me.   Again, let me explain.  When I first started in this industry, back in 2012, I clearly remember, applying for links, and usually getting denied.   I didn't know what I was doing too.
What I used to do , was basically purchase an affiliate program I really wanted.  And I understood that, by purchasing, i'm getting closer to the vendor already.   My next step was to always go through the training course, or software that I just invested money in.   Once I would go through the training, or software, and implemented it to my newly starting affiliate business, of building a blog ( as that's why I was purchasing to become better) I realised, that when a product was good, I can now let others know about it.   But this time, I'll get paid because of that.   This cycle, is a vicious one in the beginning, because you'll find yourself purchasing many many PRODUCTS.  Many Trainings too.  But that's when the building happens.   By building you will eventually get traffic, and from traffic you'll get to build an email list, and from that email list, every time I would post a new review, someone would purchase.   That's the cycle, and many tend to ignore.
Now-a-days, you get every affiliate you can think of, thinking they are affiliates, applying for links and demanding review access.  Well it's not that easy.  First of all, doing that without any type of sales stats, will get you denied in a heartbeat.
Even blocked at times, because as vendors, as a product creator, and through experience, just by the way you are asking for a link or review access, I know you're a newbie.   The reasons why most product creators deny you access or for someone new to promote, is because of that exact reason.  You are new.  You're traffic can hurt our stats in terms of conversions and EPC's.  (if you don't know what these mean, don't worry, that's a little more advanced for now)   Just think of it as loads of traffic to an offer that doesn't convert will bring stats down and low epc's.   This hurts the vendor and the product itself,  because when top affiliates are looking for products to promote, they will definitely skip a product with low EPC's and Zero Conversions.    Plain and simple, this is the real reason why most of you get denied, or have a hard time getting your links approved from places like Warrior+ or Jvzoo.
It's easier on places like Clickbank,  but that's another story.     If you get to bring up your stats as an affiliate marketer, get some sales on your account then, you will be approved and you'll be able to make money promoting offers.
Today things will change for you.   I'm about to show you Headway, which will help you actually bring up your sales stats on places like Warrior+ and also get approved to promote whatever product you want easily.
For the first time ever,  Trevor and Jonas are revealing a system that will help you not only get your links approved but also make you start generating your first commissions with Affiliate Marketing.    I kid you not.  This is probably the only and last course you'll need when it comes to becoming a super affiliate on Warrior+ and i'm not exaggerating.
Watch my video below on what headway is all about and my exclusive bonus package I have created for you and exclusively for this training course. You won't find my bonuses anywhere else, or with another marketer.  I promise.
My Headway Walkthrough and Demo
What You'll Get…
A full member's area stuffed with 20 Over the Shoulder Videos that reveal the entire Headway strategy, step by step.  We start right at the beginning, so this will work for any level, wherever you are at.
Headway Done For You Tools – Just wait until you see what we have for you!  We have some crazy hacks that solve ALL the problems when it comes to making consistent affiliate commissions!
Access to a VIP Private Facebook group
Done For You Review video
Done For You Full Bonus Bundle to Giveway
Done For You bonus Access
What's Inside HEADWAY Members area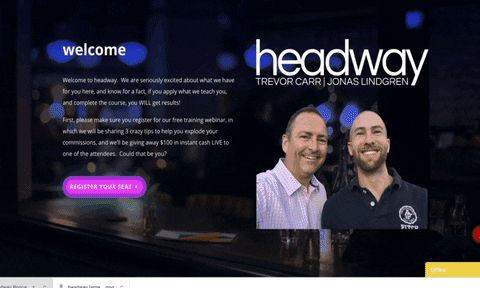 Front End $12.95 
The front end is a full member's area video training course that offers insane value for anyone struggling to make regular, consistent money online.  The training is created and recorded by Trevor Carr and Jonas Lindgren, and is split into 3 modules. 
Module 1 tackles the issue of a zero or low score on W+.  This is often the first stumbling block as the affiliate can't get approved because they have no sales, and therefore can't make any sales. 

So you will be getting two funnels with guaranteed approval to kick start your scores.

You also get a review video, full bonus bundle, review page and bonus access for Funnel 1, so you are virtually guaranteed to get sales!  

Full training is provided. 

Module 2 we move on to making headway as an affiliate, including case studies on "dead subscribers" who haven't opened and emails for a year but pulls in $109.05, and a tiny bot list that pulls in $201.04 .   

There is also a Google Ads training, demonstrating some pretty impressive results from a small spend.

Module 3 you get trained from start to finish on how to become a vendor on W+ and once again we give them the tools you need, a product, complete with OTO's, editable sales pages and download pages.
OTO1 – Headway DFY solution $37
OTO2 – Headway Advanced $67
OTO3 – Headway Traffic $97
OTO4 – Headway Licence $97
Your Exclusive Bonuses If You Pick Up Headway From My Links Below
Attention:

You Can Find Your Exclusive Bonuses Right Under Your Access Links to Headway In Your Warrior+ Accoun
Real Case Study with Results Using the Training
Get Instant Access to Headway and Claim all My Bonuses Above